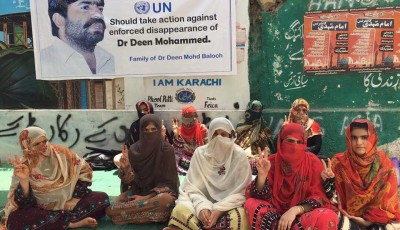 Wednesday, June 28th, 2017 12:43 pm
KARACHI: The daughters of an enforced-disappeared Baloch doctor have started a three-day token hunger strike camp at Karachi Press Club on Monday (26/06/2017) to demand for the safe release of their father.
The Pakistan security forces abducted and disappeared Dr. Deen Mohammad Baloch, a doctor by profession and a member of Baloch National Movement, from Ornach area of Khuzdar Balochistan on the night of 28 June 2009. His whereabout remain unknown since his abduction and his family has been striving for his safe recovery from past eight years.
Sammi and Mehlab Baloch, …